---
Member News and Announcements
Email news items to news@nemca.com · Sign up for the NEMCA newsletter
Yankee Gathering XVII News
Yankee Gathering XVII is scheduled for November 15-17 2018 Yankee Gathering at the Westboro Doubletree by Hilton. More details forthcoming. Please note that this is a
revised date
from what had been previously announced.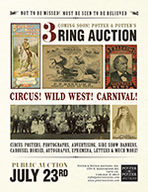 Three Ring Auction
Potter & Potter Auction, Saturday, July 23rd from 10am - 5pm, CST.
Ladies and gentlemen! Boys and girls of all ages! The greatest auction house on earth is now offering for sale an ostentations & overwhelming number of gorgeous and artistic antiques and relics from the world's most unrivaled of circuses, carnivals and wild west shows!
Included in this not-to-be-missed extravaganza of an auction will be carousel horses, sideshow banners, circus posters and lithographs, Buffalo Bill and wild west memorabilia and ephemera, Coney Island Amusement Park relics, and oh, so much more! Photographs, autographs, wagons, banners, wood carvings, signs, and other fantastic objects sure to delight and amuse will all go on the auction block!
---
Featured Magic History and Collecting Sites
Send suggestions for featured sites to news@nemca.com.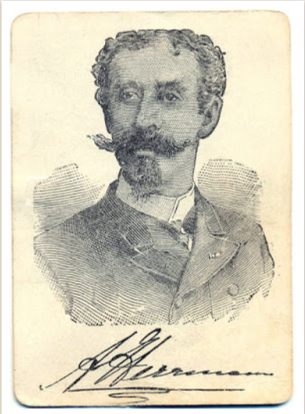 Propelled Pasteboards: Judge Gary Brown, Tom Ewing, and Gary Frank have collaborated to create an an entertaining and thoughtful blog dedicated to the art and history of Throwing Cards.

For more than a century, magicians have dazzled audiences by throwing playing cards with remarkable power, speed and precision. Some conjurers propelled cards to showcase their extraordinary skill and dexterity, bouncing cards against the rear wall of the theater, sailing them into the balcony or landing them in the laps of specific spectators. Visit the Propelled Pasteboards site to learn ore about this amazing specialty.