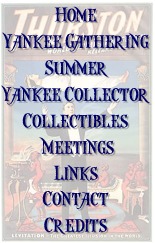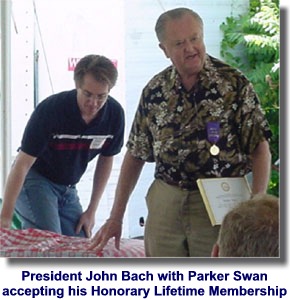 he 2003 clambake was such a success, NEMCA repeated the event in 2004 on June 27, again at Woodman's of Essex in Essex, Massachusetts. In addition to NEMCA members, several other prominent collectors joined us, including George & Sandy Daily and Hap & Linda Korsen.
This year's event had the weather in its favor, so it was held outside under a tent, beneath the bright afternoon sun. The meal, which included baby back ribs, clam chowder, steamed clams and mussels, and lobster, topped off with corn-on-the-cob, coleslaw, and strawberry shortcake, was delicious and more than enough to satisfy. Robert Olson was the master of ceremonies for the festivities, which consisted of a flea market, an auction, and performances of magic. We were entertained by feats of conjuring provided by Bill Rauscher, John Flood, Ed Hill, Robert Olson, and the already-legendary coin master, Mickey Silver.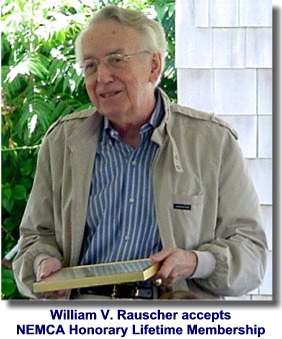 NEMCA President John Bach presented special certificates to two new Honorary Lifetime Members, Parker Swan and William V. Rauscher. Parker has been a regular member for a long time and emceed the shows at our Yankee Gatherings from the beginning up through its eighth edition in 2000, as well as entertaining and enlightening us many times at our meetings with his personal reminiscences. He established himself years ago as one of the country's top magical Masters of Ceremonies. Bill, a well-known magic historian with many books to his credit and more to come, was not previously a member. He has contributed so much over the years to our Yankee Gatherings as a lecturer and a performer, and with articles in The Yankee Magic Collector, that the NEMCA membership unanimously voted him into our group with enthusiasm.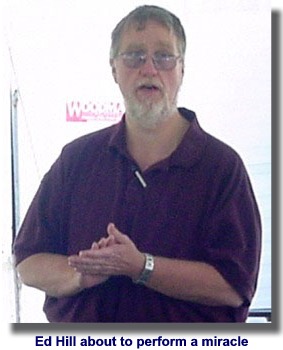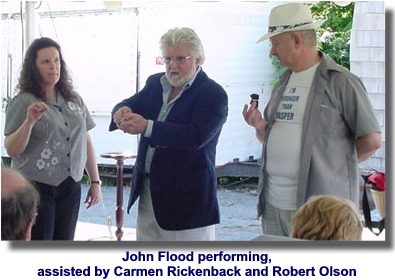 (Photos by NEMCA member Dick Miller)