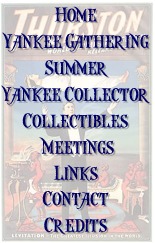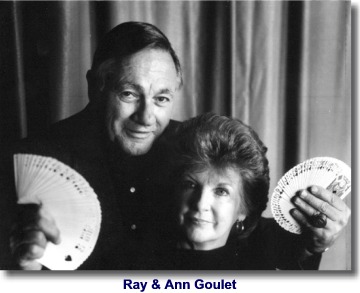 ankee Gathering XI, the biennial convention hosted by the New England Magic Collectors Association (NEMCA), was held November 2-4, 2006 at the Westin Hotel in Providence, Rhode Island, USA. The three-day schedule of events included Lectures, Performers, Dealers, Exhibits, a Banquet, and a Flea Market. In addition, guests at the Gathering were given the unusual opportunity to tour the excellent H. Adrian Smith collection of magic books and other items of historical conjuring interest at Brown University.
The Guests of Honor at the convention were Ray & Ann Goulet, proprietors of the marvelous Magic Art Studio and Mini Museum of Magic in Watertown, Massachusetts, USA. Ray & Ann have contributed in countless ways to NEMCA and to magic in general over their long careers, as performers of stage magic (including performing at the White House), publishers of numerous important historical magic books, purveyors of high-quality magic equipment, creators of important magic apparatus reproductions, and owners of one of finest and best displayed and organized magic apparatus, magic posters, and magician sheet music collections anywhere. They organized all of the Yankee Gatherings through 1990, attracting extraordinary lecturers and dealers and building Yankee Gathering into one of the leading magic collector conventions in the world. Ray is a charter member of NEMCA, and through his generous efforts both large and small, continues to help lead NEMCA to grow in its mission to foster the sharing of information and camaraderie among magic collectors around the world. NEMCA meetings are held at Ray's beautiful magic shop and museum in Watertown, Massachusetts, USA.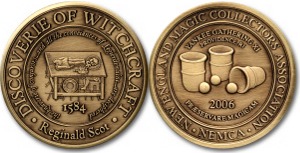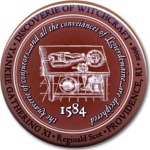 For Yankee Gathering XI, NEMCA issued a medallion and a pocket mirror honoring Reginald Scot's Discoverie of Witchcraft, first published in 1584, one of the first English language books to describe conjuring secrets. Both the medallion and mirror are a limited edition, and the medallion was made in three different metals. The Discoverie medallions and mirrors were originally for sale at the convention, and those that remain are now available for sale on our Collectibles page.
In addition to the offered live tour of the H. Adrian Smith collection (above), each attendee at the convention was given a DVD, A Tour of the H. Adrian Smith Library. It shows Smith, a former president of NEMCA, talking about his collection with David Downs in 1986. Smith's library is recognized as one of the finest privately owned collections of magic books and other historical conjuring items in the world. There are a limited number of remaining copies of this DVD available for sale on our Collectibles page.
At the Gathering, we were delighted to have another high-quality slate of informative and entertaining lectures from world-class experts in magic history and collecting. We give our heartfelt thanks to them for sharing their time and knowledge with us:
| | |
| --- | --- |
| | Robert Albo, The Ultimate Okito |
| | Gary Hunt, George Brindamour, "The Original Jail Breaker" |
| | Bob Rossi, Dunninger: The Transitional Years, Magic to Mentalism |
| | Richard Hatch, Hal Clawson: Magician and Manager of Magicians |
| | Bill Spooner, A Study of Conjuring Wands |
| | Arthur Moses, Houdini Speaks Out |
| | Byron Walker, A Collection of Collections |
| | Peter Lane, The Royal Aquarium: Many Magicians but Few Fish |
| | Chris Woodward, In Search of the Sensational: The Secrets of Maurice Fogel |
| | Jim Hagy, John Grdina: The Instant Illusionist |
| | George Daily, Reminiscences of a Bookseller |