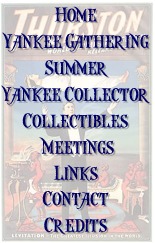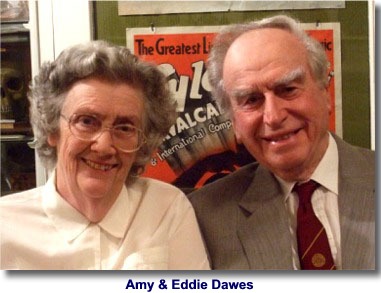 ankee Gathering XII, the biennial convention hosted by the New England Magic Collectors Association (NEMCA), was held November 13-15, 2008 at the DoubleTree Hotel in Westborough, Massachusetts, USA. The three-day schedule of events included Lectures, Performers, Auction, Dealers, Exhibits, a Banquet, and a Flea Market. For those arriving early, there was also a special "late night" moderated forum on collecting magic posters. Two optional events were offered on November 16, the day after the convention: the Le Grand David Spectacular Magic Company gave an afternoon performance at the Cabot Street Cinema Theatre in Beverly, Mass., and Ray Goulet's Mini-Museum of Magic in Watertown, Mass. was open for visitors.
The Guests of Honor at the convention were Eddie & Amy Dawes of England. Dr. Edwin A. Dawes is a prominent member of The Magic Circle and without a doubt the most prolific writer on the history of magic alive today. His column, "A Rich Cabinet of Magical Curiosities" has appeared in more than 200 issues of The Magic Circular, he has authored nine books (including The Great Illusionists, Charles Bertram: The Court Conjurer, and Stodare: The Enigma Variations), he has contributed to every issue of NEMCA's The Yankee Magic Collector since 1988, and his articles and reviews have appeared in many other magical periodicals. Eddie was inducted into the Hall of Fame of the Society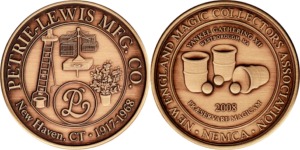 of American Magicians in 1984, and was awarded The Magic Circle's John Nevil Maskelyne prize in 1988. One of the most knowledgeable and respected magic historians and collectors, Eddie lectured at this Yankee Gathering and was also a lecturer at past Gatherings. Amy Dawes is a magician, both in a double-act with Eddie and as a solo practitioner, she authored the biographical material on British female magicians in Frances Marshall's Those Beautiful Dames, and she has been a great supporter and contributor to magic and magic history for more than 50 years. We were delighted to salute Eddie & Amy Dawes as our Guests of Honor at this Yankee Gathering.
For Yankee Gathering XII, NEMCA issued a medallion honoring the Petrie-Lewis Manufacturing Co., which was one of the most important makers of conjuring apparatus. The medallion is a limited edition, and was first offered for sale at the convention. Those that remain are now available for sale on our Collectibles page.
At the Gathering, we were privileged to once again have a number of engaging and educational lectures from world-class experts in magic history and collecting. We give our deepest thanks to them for sharing their time and knowledge with us:
| | |
| --- | --- |
| | Phil Schwartz, The Story of Brookledge |
| | Robert Albo, Rare and Unusual Thayer Woodturnings |
| | Ken Trombly, Paper Treasures: Collecting Magic Ephemera |
| | William Kalush, Early Magic Books |
| | Bill Kuethe, A Potpourri of Magical Memories, or Frances Was Right! |
| | Eddie Dawes, On Becoming a Collector |
| | Richard Cohn, The Magic of Coney Island |
| | James Hamilton, Jesse L. Lasky: Music, Magic, Movies |
| | Margaret Steele, Adelaide Herrmann Rediscovered |
| | Giovanni Pasqua "Roxy", Magic Literature in Italy during the 18th Century |
| | Joan Lawton, Don Lawton: The Man with the Golden Pun |
| | Chris Woodward, Magic at The Palladium |
| | William V. Rauscher, Pleasant Nightmares |