Yankee Gathering XV
By Frank Dudgeon
Photos by Wayne Wissner
If you look at the program guide for their first gathering of collectors in 1986, the NEMCA founders were prescient enough to add the roman numeral "I" after "Yankee Gathering." I'm sure they wondered if there would be a "II." We have now enjoyed Yankee Gathering XV, held November 6 - 8, 2014, at the Doubletree Hotel in Westborough, Massachusetts.
Many who arrived early were treated to a Wednesday evening tour of the lovely home and automata collection of Ken and Sandra Goldman. Thursday began for many with our first visit to the dealers' room, and a wine and cheese reception in the evening prepared us for the first events. After a welcome from NEMCA president Dan Bybell, and a moment of silence for Ed Hill, Parker Swan and Charlie Cambra who had passed away since the last Gathering, Yankee Magic Collector editor Andrew Pinard distributed author copies to those who provided articles for the latest publication.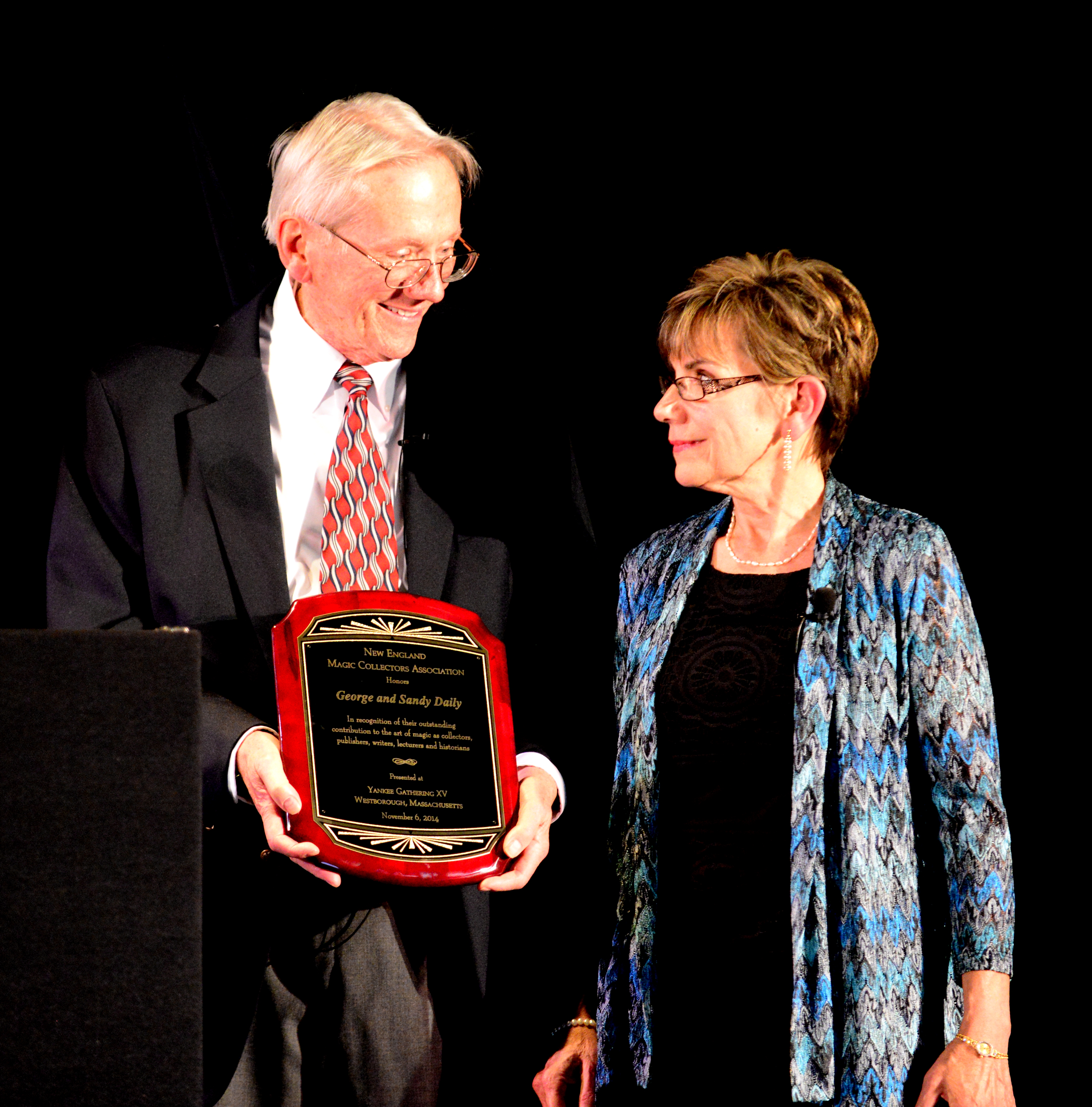 Honorees George & Sandy Daily
Mike Caveney was then called upon to introduce his great friends and our guests of honor, George and Sandy Daily, who gave us a marvelous talk on Harry and Mildred Rouclere, a highly successful husband and wife team who were renowned for their baffling silent code act, Mildredism, and a full evening show of magic and mentalism. George and Sandy were then presented with a special plaque in their honor.
Then it was showtime as Tom Ewing, our talented emcee for the weekend, introduced Larry Stangel, "Amazing Larry," who offered an act of comedy and magic including a rope routine and card in wallet. Tom Ewing then presented his hilarious series of Irish toasts. Joe Patire assisted Tom by sharing shot after shot of "liquor" poured from a small silver carafe as each toast was recited. Joe's reactions were wonderful. The show was brought to a rousing conclusion by the consummate performer Mike Caveney with his now-classics Magic Paper, torn and restored toilet paper, Bow & Arrow, a very funny archery routine impaling a selected card with an arrow, and Coffee Juggling, in which a full cup of coffee is spun on a large ring.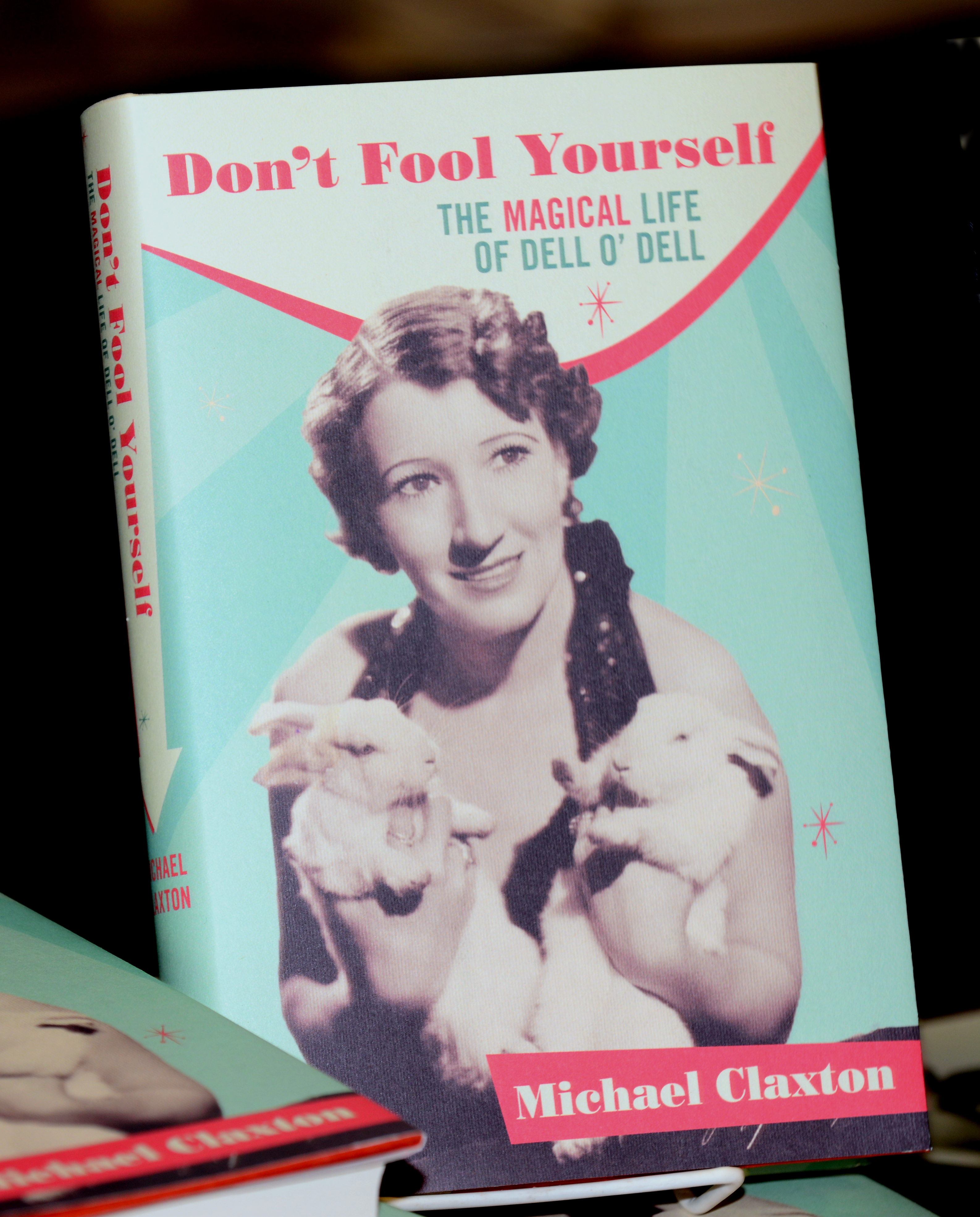 Friday morning began with Bill Rauscher who spoke on the subject of his new book, Silent Mora: The Story of Louis J. McCord. Enhanced with rare performance film clips, Bill eloquently spoke of this legendary artist and of vaudeville and Chautauqua which were his home. Then Michael Claxton gave a fascinating and funny talk about the subject of his new book, Don't Fool Yourself: The Magical Life of Dell O'Dell. Michael spent eight years researching this highly successful woman who presented comedy magic with rhyming patter. She once did 47 shows in one week! Michael's talk was very well presented and concluded with an audio recording of Dell O'Dell, the first time it was heard in public in 75 years.
Many of us headed for the Exhibit Room. Houdini was well represented by movie stills and other items courtesy of John Hinson. Jon Oliver brought a host of restraints including the French letter cuff Houdini used to foil Kleppini, and other Houdini goodies. Joe Bunch displayed a large selection of works by Professor Hoffman. Steve Thomas' exhibit included an original Ronald McDonald costume and a variety of McDonald's tricks and giveaways. Ray Ricard unveiled yet more of his antiquarian book treasures, this time centering on Pinetti. George Daily brought a collection of tickets and passes for some classic shows including Blackstone, Carter, Herrmann, Houdini and more, all laid out under a large poster for Taft the Illusionist. Ray Goulet's Silent Mora exhibit included many handmade props including a production pole, vanishing lamp, fans, precision bamboo sticks and more, plus a board adorned with cards and photos of Silent Mora, including some of his later years. Next was an array of beautiful metal work, including a Martinka coffee vase, Hornmann's handkerchief stand, Voisin ball columns and more, courtesy of Hap Korsen. David Haversat displayed Robert Houdin's Crystal Cash Box, among the first effects to utilize electricity, as well as a John Henry Anderson poster, Frederick Eugene Powell items and Karl Germain's Gold Dust table. More John Henry Anderson items were shown by Tim Moore, including linking rings, a hat and cane and glassware, plus Germain's Miss Confetti gimmick. Tom Ewing's offerings included Earll Muddiman's blade box (later to be seen in a show), a Davenport Brother and Fay poster, an autographed ticket to Fay's show, and more. Thanks to all who shared their treasures.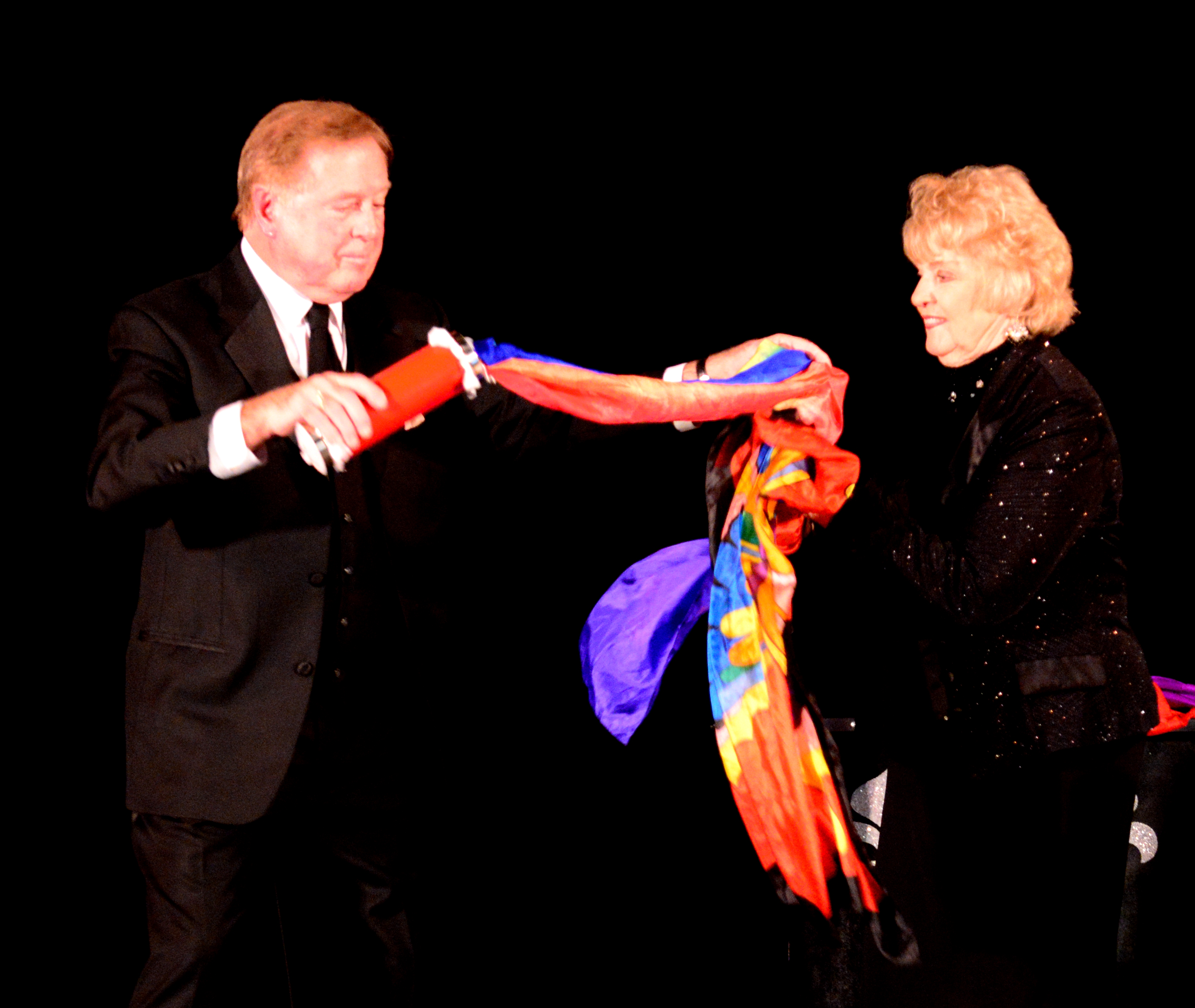 Friday afternoon was given over to the auction, entertainingly presided over by Bob Olson. Apparatus, broadsides, books, posters, and Houdini items tempted us all. Friday evening we enjoyed three talks. It had been over a decade since Phil Temple addressed the Yankee Gathering, and his "In Search of the Magic...and What I've Found" was a fascinating account of a lifetime unearthing Carter the Great posters and the Carter show, the Dante family trunks, Virgil's poster collection, Doug Henning show items, Houdini rarities and much more. Gabe Fajuri followed with "Secrets for Sale: A Century of American Magic Shops, 1860-1960." Gabe discussed early brick and mortar shops, then offered a theory that the three greatest shops were run by Francis and Antonio Martinka and then a group of successive owners, Floyd Thayer's Palace of Magic, and Abbott Magic Company. These three magic stores were "The One," one at a time in their respective eras. Our last talk of the evening delved into the world of gambling with Terry Roses discussing devious cheating devices. Dice, cards, and even boxer shorts are used to get the money, and Terry talked about them in detail and how they are employed.
Friday night's show began with Doc Hokum, yet another character from the multifaceted Leland Faulkner. Doc dispensed the elixer "El Toro," performed magic, and sold bars of soap at a dollar a pop, with the help of Alan Wassilak as Doc's elderly mother (!), all to the accompaniment of ukulele artist Ukulele Eck, aka Joel Eckhaus. Emcee Tom Ewing performed a nifty card effect, and then introduced The Gustafsons, performing Ade Duval's "Rhapsody in Silk," an act not seen for 75 years. Richard and Joanne Gustafson brought this beautiful classic to life with grace and flair. It was a lovely thing to see.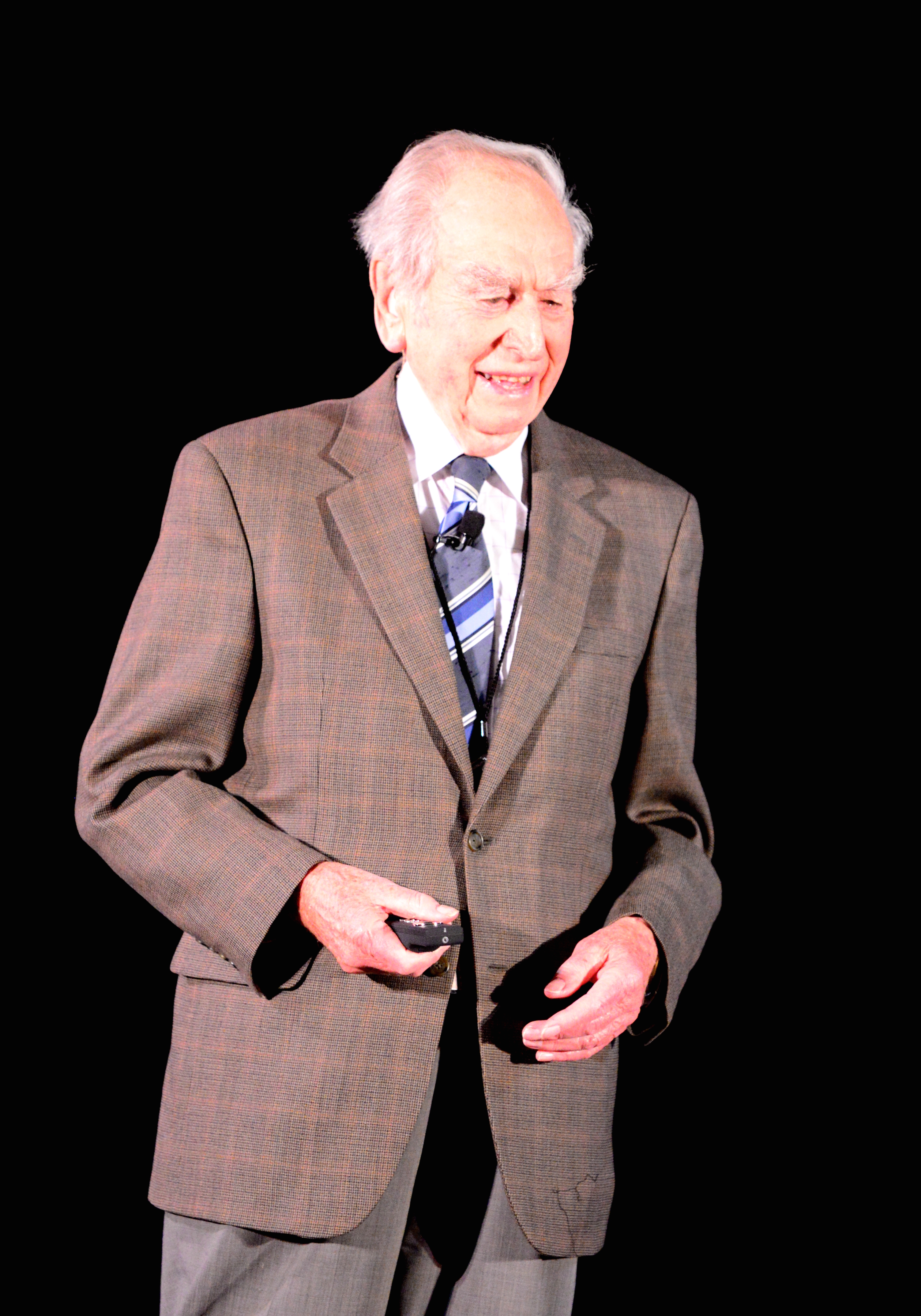 Saturday morning began with a flea market, and concurrently there was a Ladies' Tea honoring Sandy Daily, which I was told was very enjoyable. After lunch we heard three excellent talks. Dr. Edwin A. Dawes gave us "Some New Light on the Families of John Henry Anderson, The Great Wizard of the North." After a childless first marriage, to avoid bigamy laws Anderson didn't actually marry the next two "Mrs." Andersons, but tbey did have children, some of whom joined the show. Dr. Dawes demonstrated his usual excellent scholarship, which has resulted in a new Anderson biography. Georges Naudet followed with "The Conjurer in 19th Century Popular Imagery: Street Performer or Petty Thief?" From the familiar cups and balls images of pickpockets working the magician's audience, to scenes of gambling cheats, brigands and suspicious characters, George Naudet presented some intriguing visual representations of street performers of that era. 

Magic Christian then was invited to give us an update on efforts to restore Compars Herrmann's grave in Vienna. The final very entertaining talk was from Steve Thomas, "The Magic of Ronald McDonald." Steve's extensive career as a magician, TV host and actor included portraying Ronald McDonald for 30 years. We learned about Ronald's and Steve's early days, through the development of the character, to a full stage show featuring McDonaldland characters and appearances nationwide.
After Saturday night's banquet we enjoyed a very strong final show. Leland Faulkner returned displaying his skills in two excellent pieces. The first involved a man in a Middle Eastern marketplace, his fez, and an invisible chicken, and really showcased Leland's storytelling skills. Then he returned in a black robe-like costume to present a beautiful rendition of the fan and paper butterflies effect, bringing Sandy Daily from the audience to interact with a butterfly, and ending with Snowstorm in China. Emcee Tom Ewing then presented the Earll Muddiman knife box that had been on display in the Exhibit Room. With Tom's hand locked in the box, he then pierced it with a dozen carving knives in an impossible-looking effect.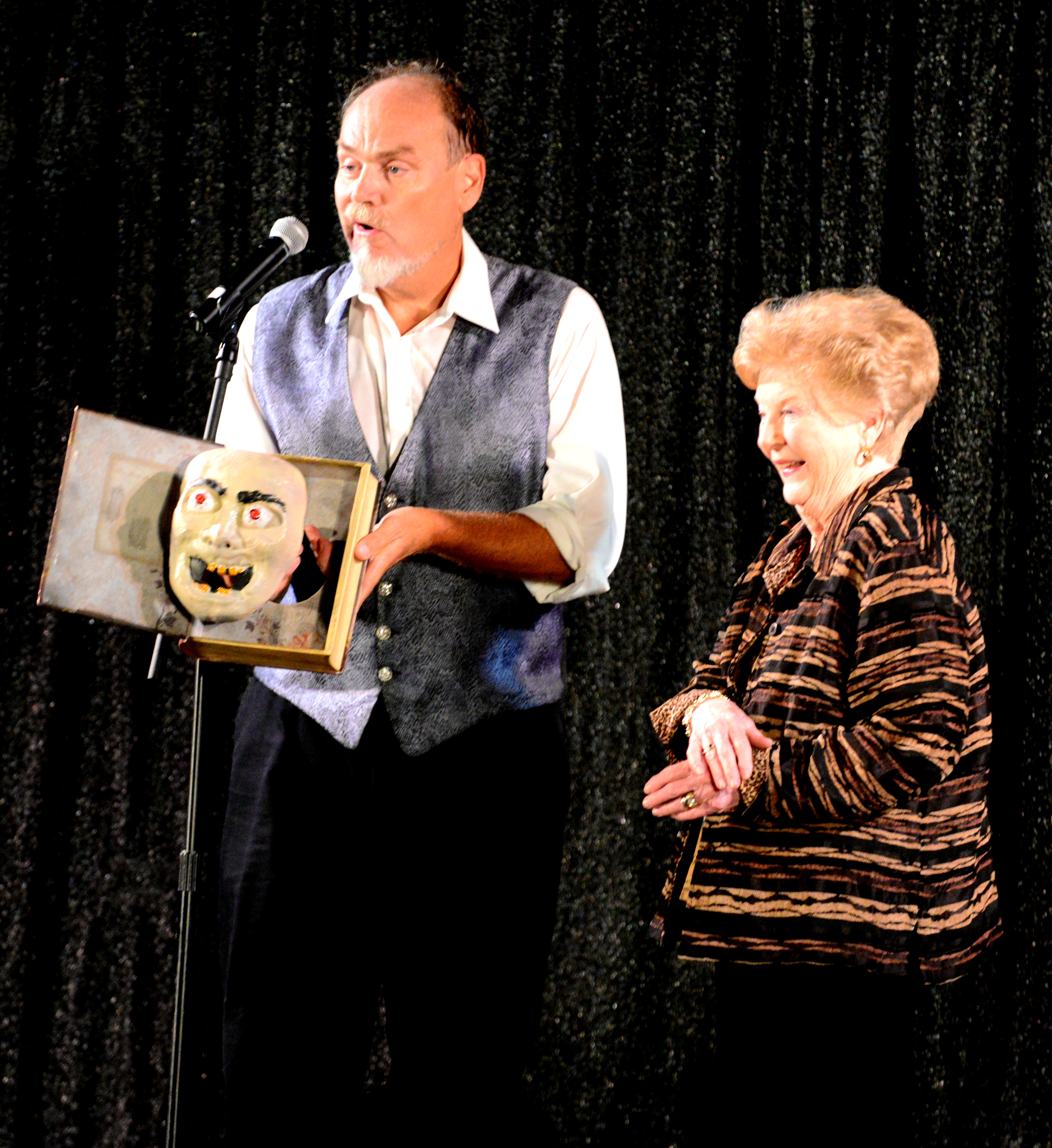 It was a treat to see Torkova return to the Yankee Gathering. He offered a Homing Ball effect with color changing balls, followed by a smooth silk routine. This was followed by Raymond's Orange Trick. Torkova stood between two large clear bowls, which were wrapped in cloths, and both bowls became filled with oranges. He gave out the oranges from one bowl to audience members, covered it with a cloth, and produced a third bowl of oranges! He ended with a lovely linking rings routine, presented silently, and incorporating audience member David Haversat in a very entertaining manner.
The closer was Doc Swan who made a lot of fans for himself this evening. Blending magic with variety arts and a hilarious stream of patter, Doc Swan proved himself a master of timing. His set included hat juggling, chapeaugraphy, and a very funny shackle escape using lots of sight gags. His strait jacket escape, with Ann Goulet as his helper, was extremely funny as he danced out of his restraints. His finale was walking barefoot on glass, with Pam Bybell, NEMCA President Dan Bybell's wife, getting a piggyback ride as he trod on the sharp shards. The man is an excellent entertainer.
One of the pleasures of the Yankee Gathering is catching up with old friends, but it was also good to see a number of people enjoying their first Yankee Gathering. Several of them told me they had a great time and looked forward to the next one in 2016. See you then!